Welcome!
My debut novel, Darkling, has found its way into the hearts of hundreds from the young adults it was written for to the surprising outpouring of support and enthusiasm from readers who "took a chance" on my independently published tale. Written under my pen name, K.M. Rice, Darkling is my suspenseful debut novel about a young woman's sacrifice to save her village and the unexpected strength that comes from first love.
With your help, Darkling can now become a fully immersive experience by being recorded as an audiobook! The incredibly talented voice artist Gail Shalan is ready to bring Willow and the story to life.
This is your chance to not only be a part of this exciting project and pre-order the audiobook, but to get your hands on some exclusives such as artwork from Lindsey Crummett who is one of the many talents from the Academy Award-winning design team at Weta Workshop (Lord of the Rings, The Hobbit, Avatar), and an exclusive short story extending Darkling by eighteen pages, called "Willow's Dream."
So please, grab a cup of tea and have a look around at the rewards. Something might catch your eye!
UPDATE FOR INTERNATIONAL BACKERS! While I cannot edit the listings of the rewards, all are now available for shipping overseas if you are willing to pay the extra shipping costs ($22.50 for the book, $13.50 for the poster). Just shoot us a message here, on my author page, or at kmriceauthor@gmail.com to inquire!

All copies of my books are personalized/autographed upon request at no extra cost. :)
Book Trailer
Who Are We?
GAIL SHALAN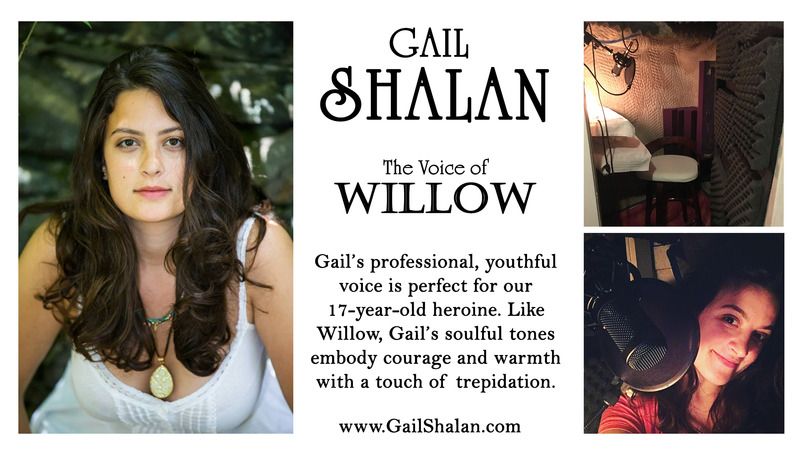 Gail has always had a deep love for reading, especially out loud. As an actor and puppeteer, Gail loves finding new character voices. Recording audiobooks has been a lifelong dream and she is proud to be doing it.
Besides her natural propensity for words, language, and telling stories, Gail has a wide array of top-notch training: she holds a BFA in Acting from Boston University and has trained with the London Academy of Music and Dramatic Arts, the Bristol Old Vic Theatre School, Mountview Academy, Shakespeare and Company, Williamstown Theatre Festival and others. A passionate performer and scholar of Shakespeare, she has seasoned dexterity with text and imagery. She loves using her voice in every way (singing, speaking, making sound) and it is the core of her work as an actor.
Gail works from her home studio in Western Massachusetts. You can find out more about her current film, stage, and audio projects on her website- www.gailshalan.com and find out how to download any of her Audiobooks for FREE on the "Listens" page of the site.
LINDSEY CRUMMETT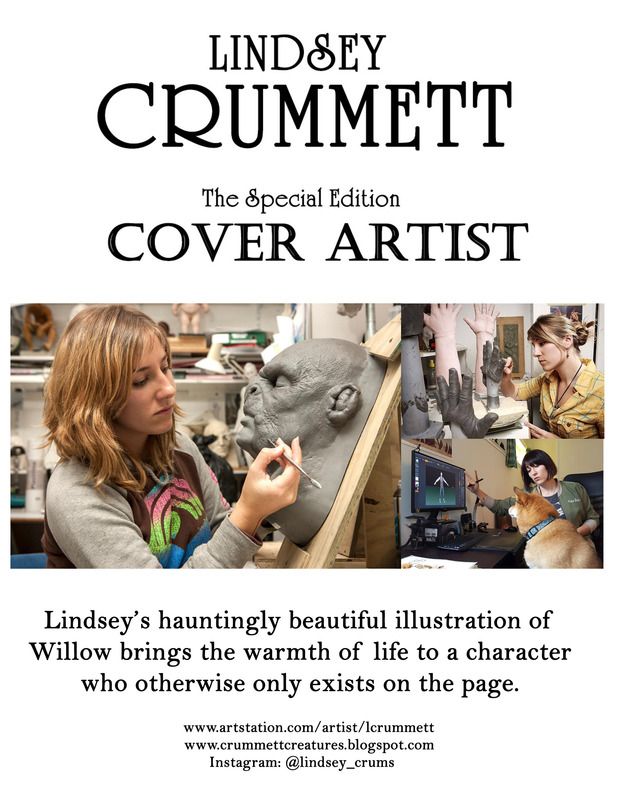 Lindsey has always had many passions in life. From the time she was little, her imagination was captured by nature, animals, biology, evolution, storytelling, film, and creating anything exciting with her own two hands. She made a determination from the time she was eleven and first saw Jurassic Park in the theatre; one day she would help bring creatures to life on screen.
In 2007 she began work at Weta Workshop, a long-time dream of hers since she had seen The Lord of the Rings. In her time at Weta she has worked in Props Making, Sculpting and Concept Design. Her credits include such films as Avatar, District 9, The Hobbit Trilogy, and Power Rangers to name a few. She considers herself very fortunate to have been able to experience many aspects of pre-production at Weta Workshop, as well as Collectible Sculpting for those same films.
Making time for her Freelance career as well, Lindsey's passion lies in collaborating to create innovative and exciting artwork for Film, Gaming, Toys, and Publishing. Check out Lindsey's work here:
www.artstation.com/artist/lcrummett
www.crummettcreatures.blogspot.com
Instagram: @lindsey_crums
K.M. RICE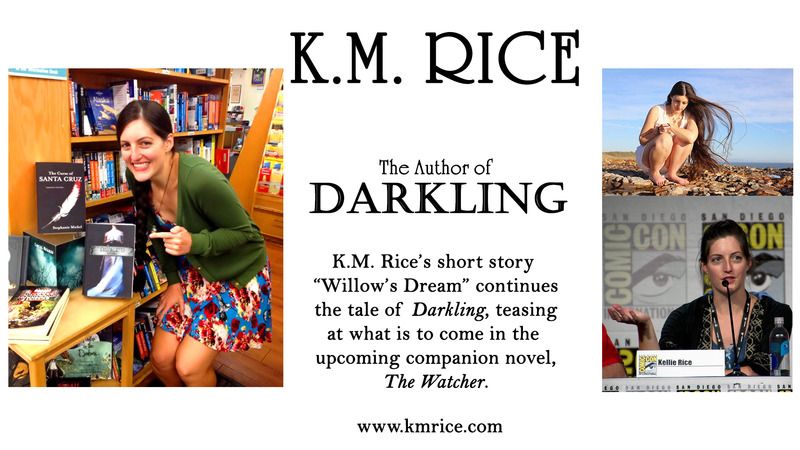 K.M. Rice is a national award-winning screenwriter and author who has worked for both Magic Leap and Weta Workshop, the latter being responsible for such cinematic epics as The Lord of the Rings and The Hobbit. Her first novel, Darkling, is a young adult fantastical thriller.
Her novella The Wild Frontier is an ode to the American spirit of adventure and seeks to awaken the wildish nature in all of us.
As the producer of the webseries Happy Hobbit, she was also a contributor to J.W. Braun's book Middle-earth Madness.
Her work has been featured in the literary journal Passing Through: Stories and Art About the Road Less Traveled.
In the past, she has had her work published in the literary journal Reed Magazine and was also the focus of a feature article in the August 2009 issue of Script Magazine. Her most recent release, The Country Beyond the Forests, is a short story and selected poetry collection showcasing a range of genres and styles.
The Watcher, a companion piece to Darkling, is due out this summer.
When not working on her novels or hiking in the woods, she can be found enjoying the company of the many animals on her family ranch in the Santa Cruz Mountains.
Her books can be found online at Amazon and Barnes & Noble, and in-store at Bookshop Santa Cruz and BaronHook Boutique.


Where Will the Money Go?
All funds raised will go towards the recording and editing of the audiobook, and the printing and shipping of both the limited edition copies of Darkling and Lindsey's art print.
STRETCH GOALS
Stay tuned to this campaign as exciting developments are in the works!

Every little bit truly does help. And if we somehow exceed our goal, there are several exciting stretch goals waiting in the wings!


Thank you!